Pure and Potent CBD Formula
Our superior nano CBD oil softgels are available in three distinct formulas tailored to suit your everyday health, joint and muscle wellbeing, as well as sleep support. These premiere softgel formulations contain premium CBD oil that has gone through a proprietary nanotechnology to ensure maximum absorption for optimal results. These advanced products come with all the benefits you would expect from quality CBD products making them among some of the most effective. Easy to dose. Easy to take on the go. 
Collapsible content
Should I Choose Full-Spectrum or Broad-Spectrum Softgels?

The main difference between full-spectrum and broad-spectrum CBD softgels is that the former contains some traces of THC, while the latter does not. This factor makes broad-spectrum products a better option for many people who don't want any THC in their system.

Still, full-spectrum CBD softgels typically contain 0.3% or less of THC. This amount is barely detectable and does not cause any intoxicating effects. It is, therefore, entirely safe for use.

Our full-spectrum softgels come as nano CBD, a nano-emulsified form designed for more efficient absorption. It can help you take your wellness routine to the next level.

That being said, some people prefer broad-spectrum softgels because they are guaranteed to be free of THC.

In the end, the best way to decide which product is right for you is to use your best judgment and try different types until you find one that works best for you.
What Are the Benefits of CBD Softgels?

CBD softgels offer a handful of benefits that may improve your quality of life.

These include:

Calmness of Mind

When you're stressed out or anxious, it can be hard to focus on the task at hand. CBD products such as softgels can help you feel more relaxed and less worried about what might happen in the future.

CBD is known to interact with the body's endocannabinoid system, which regulates various processes in the body, including sleep, appetite, pain, and mood. Thus, adding a healthy serving size of CBD to your daily diet can help you find inner peace and take the edge off stress.

CBD has been shown to help reduce feelings of irritability and nervousness. It can be a vital part of regaining control over your emotions and mental health, provided you give it a chance.

Boost of Energy

For some people, a cup of coffee is the best way to start the day. For others, it makes them feel jittery and unable to concentrate.

If you're one of the latter, CBD softgels may help you overcome your caffeine cravings and boost your energy levels naturally.

When you're feeling exhausted, CBD offers a natural way to combat feelings of fatigue. Unlike traditional stimulants, it does not make you jittery or "wired." Instead, it provides an uplifting and mood-boosting effect that makes you feel more awake and energized.

Relief from Discomfort

CBD softgels can also support the reduction of discomfort.

By working with your ECS, CBD can help your brain and body promote relaxation in a controlled manner. It can help you avoid the addictive qualities of traditional painkillers and reduce your reliance on them.

CBD softgels also work wonders for occasional muscle soreness or cramps you may experience after a long workout. They promote quick recovery without overwhelming you with intoxicating effects.

Healthy Sleep Quality

CBD softgels could promote improved sleep quality by improving your ability to relax.

Besides supporting you to fall asleep faster, they can help you stay asleep longer, which can be a significant boon if you're having trouble sleeping.

Our broad-spectrum CBD softgels with melatonin and CBN have no taste or odor and come in an easy-to-swallow form. They're also vegan and gluten-free, making them an all-around excellent choice!
Why Soothe Organic?
Whether your goals are personal or professional, we're dedicated to helping eliminate the obstacles between you and the thriving life you deserve. Our superior quality CBD products will help get you there and beyond.
Full and Broad
Spectrum Products
USDA Certified
Organic Products
Made with Love
in Colorado
60-day Money-
Back Guarantee
Third Party Tested
and Certified
Superior Quality
Farming Standards
Not sure which CBD is right for you?

Answer a few simple questions to understand which CBD products are the most beneficial to your needs.

find your cbd

We're here for you on your wellness journey

Whether you're new to CBD or have been benefitting for years, we're here for you. Our door is always open.

Reach out, we're here to help
Discover the Soothing Benefits of CBD Tinctures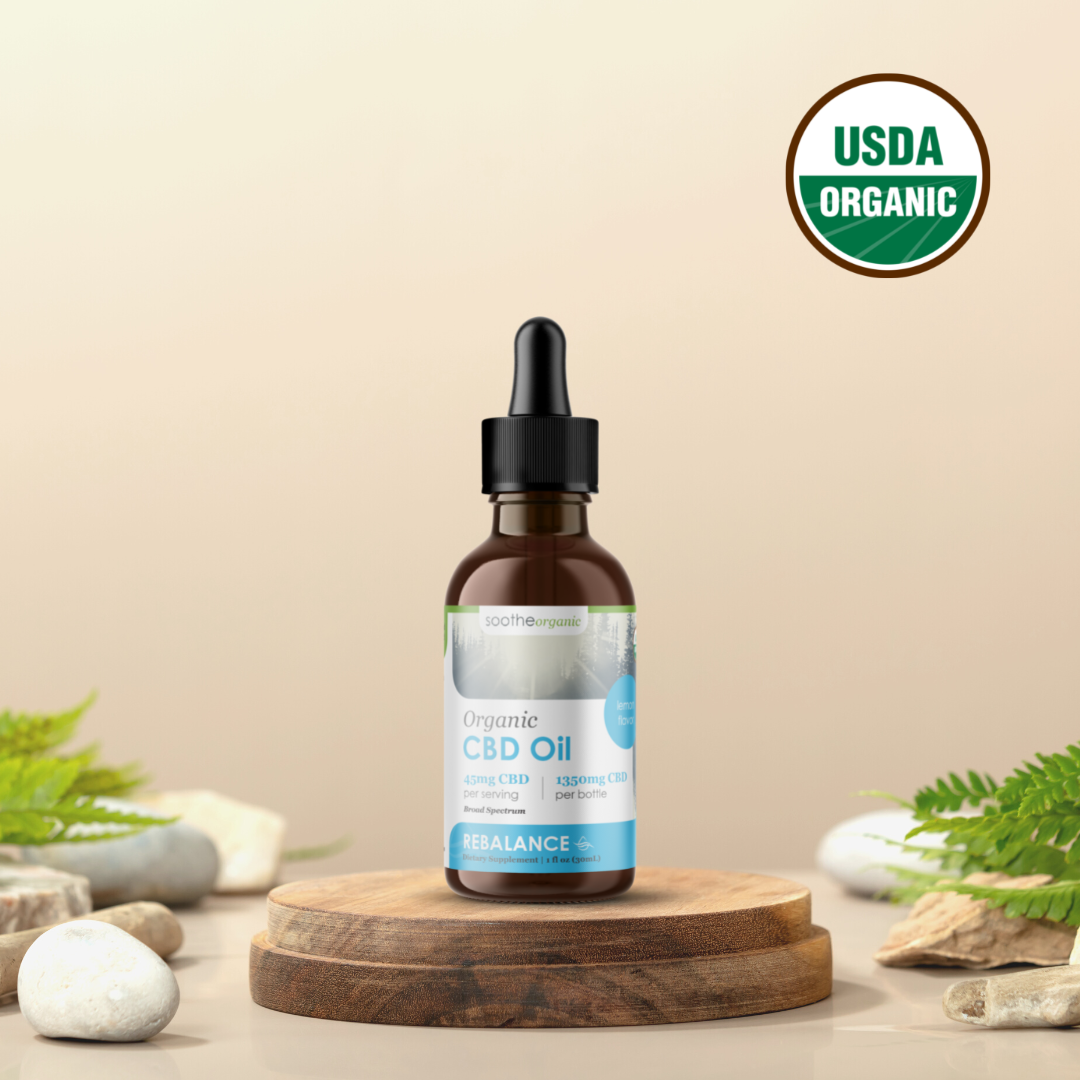 What are Organic CBD Softgels?
Organic CBD Softgels are capsules containing cannabidiol (CBD) extract derived from organically grown PCR-rich hemp plants. They are a convenient way to consume precisely-dosed CBD. Additionally, Soothe Organic CBD softgels are made with Nano CBD - a highly bioavailable form of CBD that's easier for the body to absorb for maximum benefit.
How do Organic CBD Softgels work?
Organic CBD Softgels work by interacting with the body's endocannabinoid system (ECS), which plays a crucial role in regulating homeostasis and health. The ECS consists of receptors located throughout the body, including the brain, immune system, and organs, which interact with cannabinoids like CBD to maintain balance and promote overall wellness.
What are the potential side effects of Organic CBD Softgels?
While Organic CBD Softgels are generally considered safe, there are possible but unlikely side effects in certain individuals. These may include dry mouth, drowsiness, fatigue, and changes in appetite, or mood. They may also interact with certain medications, so it is important to consult with a healthcare professional before use.
View all FAQs