Pure and Potent CBD Formula
Don't feel bad about enjoying the tasty goodness of our gummies. We take great pride in using only premium ingredients, so you can indulge without a guilty conscience! We pick top-shelf ingredients and leave out the junk - no corn syrup or unnatural flavors added and all of our products remain gluten-free and vegan-friendly. Treat yourself with confidence knowing your daily wellness indulgence comes from nothing but wholesome, quality ingredients. 
Collapsible content
What Are CBD Gummies?

CBD gummies, also known as cannabidiol gummies, are a type of edible made from CBD isolate or full-spectrum CBD extract. They're usually infused with sugar, corn syrup, and natural flavors to taste better than raw CBD oil.

These delicious treats are designed to give users an easy way to consume this compound — and they're not the only edible option available. There are also CBD-infused chocolates and gumdrops that provide a mouthwatering way to get your daily serving of cannabidiol.

Edibles like these are often easier to take than other methods of consuming CBD, such as softgels or tinctures.

Our gummies come in four distinct flavors:

This way, you can choose the most suitable product according to your preferences.
How Do CBD Gummies Work?

ike other CBD products, CBD gummies work by interacting with the body's endocannabinoid system (ECS).

The ECS is a biological system composed of endocannabinoids and their receptors. These receptors are located throughout the body and play a key role in maintaining homeostasis — the internal balance that keeps our bodies functioning properly.

The ECS regulates many different processes within our bodies, such as sleep, mood, pain perception, immune function, and more. Many scientists believe that CBD works by influencing the receptors in the ECS, which may help restore balance in the body. However, more research is needed to determine how cannabidiol affects the ECS.

CBD may interact with other medications you're taking, so it's essential to consult your healthcare provider before starting a new supplement routine.

If you have any questions about whether CBD gummies are suitable for you or how they might interact with your current medications, please ask your doctor before using any cannabidiol product.
Broad-Spectrum vs. Full-Spectrum CBD Gummies

The CBD industry is rife with gray areas, and choosing the right product is often difficult. While it's true that both broad-spectrum and full-spectrum CBD gummies exist, the two aren't entirely identical.

Broad-Spectrum CBD Gummies

If you're looking to harness the full potential of CBD, you can't go wrong with our broad-spectrum gummies.

These products not only provide a pleasant intake of CBD but also include other natural ingredients from the hemp plant that can improve your overall wellness — minus THC.

Each serving contains just the right amount of pure CBD, along with healthy terpenes and other cannabinoids, to provide the best wellness support. To top it off, all these ingredients are combined with a unique fruit taste that will leave you feeling refreshed and energized.

Choose from a tasty variety of flavors and pick the best one for your day. Whether you need a quick pick-me-up or an energy boost late in the afternoon, we have an option for you!

Full-Spectrum CBD Gummies

Soothe Organic also offers a full-spectrum CBD gummy product line.

These gummies are made from organically grown hemp, carefully extracted in a CO2 extraction facility, and tested for purity. It ensures you always enjoy a safe and high-quality product.

Each gummy contains high-quality CBD, which is 100% vegan and non-GMO. Because it has a minimal amount of THC and other cannabinoids, it can also help you enhance your wellness in ways you never thought possible.

Our CBD gummies offer a range of benefits, including:

promoting calmness of mind,
managing stress and tension,
improving mood,
boosting energy levels.
Why Should You Choose Soothe Organic CBD Gummies?

The best way to choose the right CBD gummies is by doing your research and knowing what you're looking for.

Here are some reasons why our products are worth trying.

We offer high-quality, organic products that contain no GMOs or added sweeteners.
Our products are tested in third-party labs to ensure their quality and purity.
Our organic hemp is grown without chemical fertilizers or pesticides.
All of our products are proudly made in the USA.
All of our products are cleanly packaged and professionally labeled.
Why Soothe Organic?
Whether your goals are personal or professional, we're dedicated to helping eliminate the obstacles between you and the thriving life you deserve. Our superior quality CBD products will help get you there and beyond.
Full and Broad
Spectrum Products
USDA Certified
Organic Products
Made with Love
in Colorado
60-day Money-
Back Guarantee
Third Party Tested
and Certified
Superior Quality
Farming Standards
Not sure which CBD is right for you?

Answer a few simple questions to understand which CBD products are the most beneficial to your needs.

find your cbd

We're here for you on your wellness journey

Whether you're new to CBD or have been benefitting for years, we're here for you. Our door is always open.

Reach out, we're here to help
Discover the Soothing Benefits of CBD Tinctures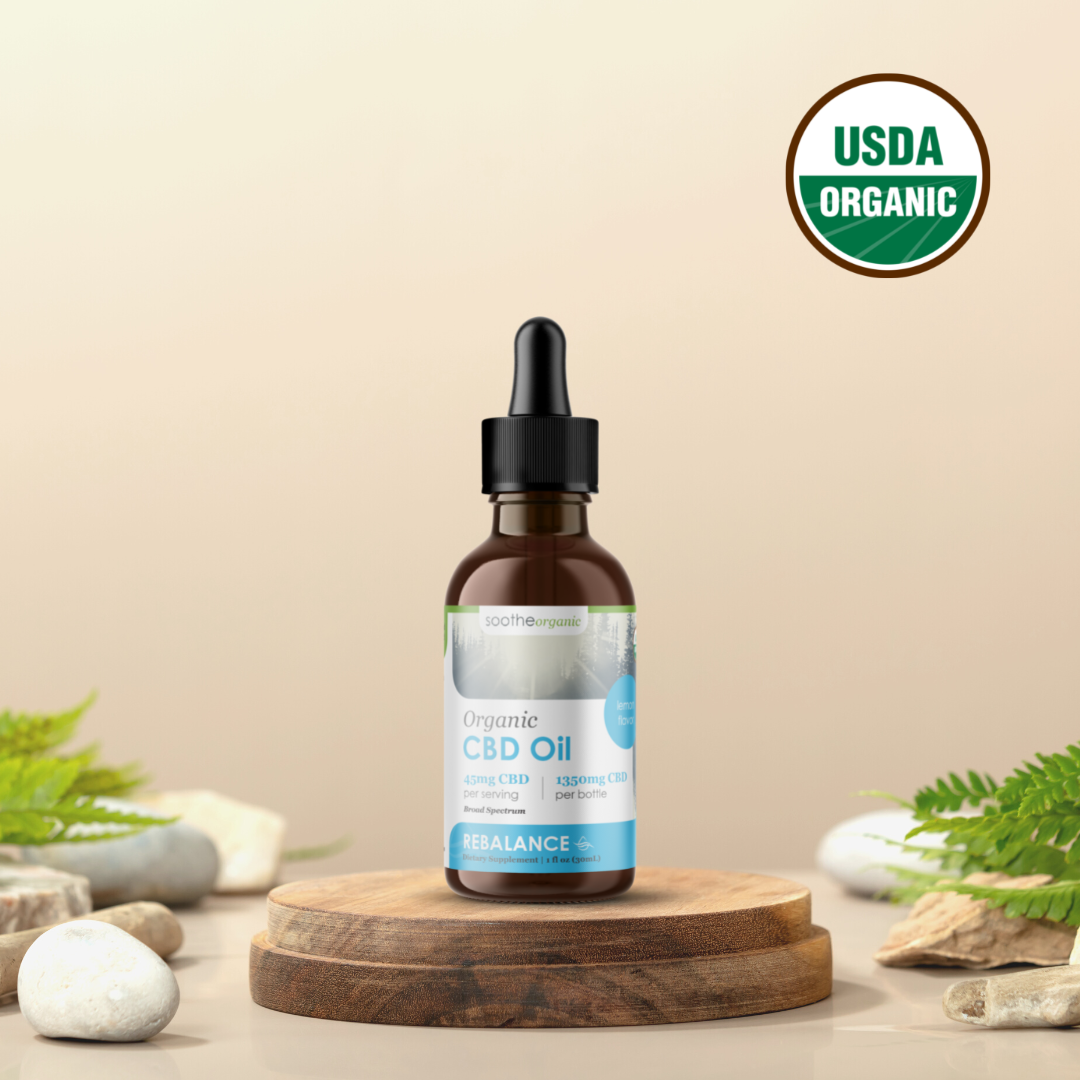 How to Dose CBD Gummies
The appropriate dosage of CBD gummies will depend on your individual needs and health condition. It's important to start with a low dose and gradually increase until you achieve the desired effects. You should also consult with a healthcare professional before taking CBD gummies, especially if you are taking other medications or have any underlying health conditions.
How to Choose the Right CBD Gummies
When choosing CBD gummies, it's important to look for products that are made with premium high-quality, organic hemp and are third-party lab tested for purity and potency. You should also look for products that are free from additives and artificial ingredients.
Can I take CBD gummies if I'm on medication?
It's important to consult with a healthcare professional before taking CBD gummies, especially if you are taking other medications or have any underlying health conditions. CBD can interact with certain medications, so it's important to make sure it's safe for you to take. Your healthcare professional can help you determine the appropriate dosage and monitor any potential interactions.
View all FAQs