When we set out to create Soothe, we did so with the go-getters in mind. Our customers put their all into what they do, and we've made it our mission to do the same.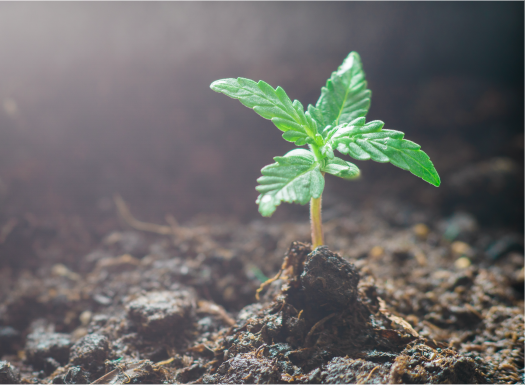 We don't mess around,
we don't take shortcuts, and we don't cut corners.
Superior products start with superior cultivation, extraction, and formulation, and that's why we've taken the time and energy to make sure that every step of our process is anchored in excellence.
Our Hemp
All of our CBD extract is sourced from sustainable farms right here in the United States. Our growing partners never use pesticides or chemicals and utilize are practices to cultivate plants that are as beneficial for the environment as they are for our bodies.
Meticulously Sourced Ingredients
We don't just stop at sourcing the best hemp we can find—we also ensure that each ingredient that accompanies our premium CBD extract is also sourced with purity and effectiveness in mind.

Whether we're looking for the best lavender for our salves or the finest olive oil for our tinctures, we put heart into every formula to make sure that every component contributes to the nourishment of your mind and body.
Nanoemulsion Technology
Our softgels go through an additional step to make them one of the most effective methods of getting your daily serving of CBD.

Nanoemulsion technology, which has been around since the '70s and is often used to boost the bioavailability of drugs, can be used to make CBD more absorbable to the human body.

How does it work? We sonicate each CBD particle to reduce its size so that more CBD is delivered to the cells in your body. Greater aboprtions creates maximized benefits.
Clean Extraction
We utilize proven and proprietary extraction techniques to get the most out of the hemp plant—including an array of cannabinoids in addition to CBD. For both our broad and full spectrum formulas, these compounds work together to produce a better, more effective product that is closer to what nature intended.
USDA Certified Organic
That green badge on our tinctures, salves, and gummies means that we're certified organic in every step of our production process—from the seeds, to the soil, to the extraction, to the formulation, to the bottling.
Third-Party Testing
We don't just test for the minimal industry requirements—a few pesticides and cannabinoid content. We take testing seriously, and send every batch to some of the top labs we could find to ensure that each product our customers consume is thoroughly examined for purity and potency.

We test for terpenes, an array of minor cannabinoids, CBD and THC.

We also test for 60 different pesticides, a variety of potential microbial contaminants, and heavy metals, so that you can take Soothe products with peace of mind.
A Product for Everyone
We're not only here to provide you with the best products to help you refresh, recharge, and better face anything that life throws at you. We're also here to match you with the product that will best fit your needs and lifestyle.

You're not like everyone else; and we're not a one-size-fits-all company. Be sure to reach out if you have any questions about our formulas, and to discover which one can best empower you to achieve your wellness goals.
Not sure where to start your journey?
Whether you're new to CBD or have been benefitting for years, we're here for you. Our door is always open.